World's Largest Glass of Florida OJ

Now accepted into the Guinness Book of World Records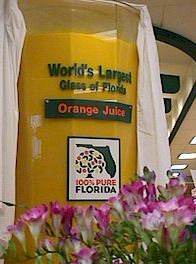 The World's Largest Orange Juice Glass "Heightens" Preventive Actions Against Cancer
The Florida Department of Citrus and Orange Man introduced the "world's largest orange juice glass" -- standing 8 feet-tall and holding more than 730 gallons of orange juice -- in support of National Minority Cancer Awareness Week (April 19-26). According to the American Cancer Society, a low-fat, high-fiber diet rich in vegetables and fruits, including orange juice, may help reduce the risk of certain cancers.
(For more facts about the World's Largest Orange Juice Glass, scroll down to the bottom of this page.)

Now accepted into the Guinness Book of World Records
---
Take Preventive Action Against Cancer in Honor of National Minority Cancer Awareness Week
The World's Largest Refrigerated Orange Juice Glass on Display Will Help "Heighten" the Awareness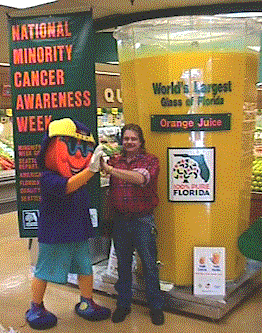 Seattle (Wednesday, April 22, 1998) -- Why are minorities tapping into the WORLD'S LARGEST ORANGE JUICE GLASS in the middle of a Seattle grocery store this week? Because in honor of National Minority Cancer Awareness Week (April 19-26), the Florida Department of Citrus and the American Cancer Society have teamed up to help heighten minorities' awareness of cancer prevention. Featured at the celebration, the eight foot-tall glass filled with 730 refrigerated gallons of Florida orange juice "largely" symbolizes just one of the simple preventive actions against the cancers which are so much more prevalent in minorities.
According to the American Cancer Society, in 1998, more than 1.2 million cancers are expected to be diagnosed in the United States and 564,800 Americans are expected to die of the disease. African Americans are diagnosed with and die from cancer more often than any other group, about 30 percent more than whites. Because of that fact, more of the statistics on cancer in minorities profile African Americans.
"It's important for minorities to be made aware that just a few changes including a low fat diet and exercise can save thousands of lives. Some people have heard the message but too many of us still eat too much fat and not enough fruits and vegetables," said Sara Stone, MS, RD who is a clinical nutrition specialist at the Swedish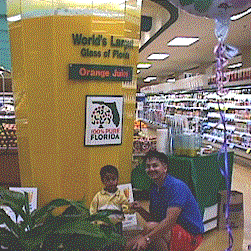 Medical Center in Seattle.
"Americans need to eat more foods which have important properties that may reduce the risk of cancer," said Dr. David Rosenthal, president of the American Cancer Society. "An easily accessible product like orange juice is a natural source of essential vitamins like the antioxidant vitamin C, folic acid, thiamin and potassium, along with other nutrients that may lower the disease."
"And it's best to get your nutrients from natural sources rather than supplements," Dr. Rosenthal added.
The American Cancer Society is the nationwide community-based voluntary health organization dedicated to eliminating cancer as a major health problem by preventing cancer, saving lives, and diminishing suffering from cancer through research, education, advocacy and service.
The Florida Department of Citrus is an executive branch of Florida state government charged with the marketing, research and regulation of Florida Citrus. The state's industry employs more than 100,000 Floridians and provides an $8 billion annual impact to the state.
For more information about diet and cancer, call the American Cancer Society at 1-800-ACS-2345 or on the internet, http://www.cancer.org. For more information about Florida orange juice, visit the web site at http://www.floridajuice.com.

For more information contact:
Denise Raleigh, 312/729-4211
Kyle Harris, 206/283-1152
---
THE FLORIDA DEPARTMENT OF CITRUS INTRODUCES THE WORLD'S LARGEST ORANGE JUICE GLASS
How big is the glass?
· 8.5 feet tall, with a circumference of nearly 5 feet
· Filled with 730 gallons of Florida Valencia orange juice, not from concentrate
· Weighs 8000 lbs. or 4 tons, and contains 6500 lbs of orange juice
What is it made out of?
· ACRYLIC
How long did it take to construct?
· 2 weeks
How does the juice stay cold and fresh?
· A refrigerator generator is built into the glass, keeping the orange juice at 35 degrees
· The orange juice circulates through the glass at 13 gallons per minute

Now accepted into the Guinness Book of World Records
---

Visit Chet's Home Page

Email me at chet@ultimatecitrus.com
"Drink more Florida Orange Juice, Eat More Grapefruit and keep our World healthy and strong!"
Go back to the top of the page
Home | Health | Organizations | Information | Weather | Recipes | Gift Fruit | FCOJ
Growers | Products | International | Books | Miscellaneous | Other | Music | Environment
Cal-Az-Tex | Consulting | Job Search | News | Advertise | Linking | Comments | Search | CAC
Copyright© 1996-2006 by Chet Townsend.
This page was last updated on March 3, 1999 by Chet Townsend.